Wrightsville Beach Kayak, SUP, Paddleboard Rentals
Serving rentals to greater Wrightsville Beach,  Figure Eight Island , and Wilmington. NC for over a decade, we deliver your kayak or paddleboard ( SUP ) rental straight to your location and then pick it up when you're done at no charge. Whether you choose from our fleet of versatile, self bailing, sit on top kayaks or new line of stand up paddleboards (SUP), we make it easy. No roofracks, no drop off, no problems.
You call and we come to you, making sure you're outfitted with all the proper gear such as life vests and paddles, instruction, coated trail map, personal recommendations, as well as safety regulations and whistles. We've chosen the most versatile and reputable kayaks and paddle boards to ensure fun for all, while keeping safety and function in mind. We're Coast Guard Certified! After you've conquered the break on one of our surf kayaks or simply drifted through the back waterways on one of our "comfort" models, we swing by and pick it all up so you're not left with any holiday/vacation hassle.
The owners are life long kayakers and natives of the area, who also spent seven great years kayaking coastal Maine and lived not a stone's throw from the LL Bean flagship store. We've seen it and "yaked" it all. Let us show you the the hotspots, the hideaways, and the "how-tos".
We're here to help in any way possible. Again, we like to keep it simple. For many of us that live here, it's a way of life. We love our little paradise and want to share its beauty with all that come here, being careful to preserve it at the same time, so be sure and add some coastal fun to your Wilmington NC adventure. The island life at Wrightsville and Figure 8 Island is rich with history, biology, and beauty and we think there's no better way to enjoy it than to get right on top of it.
You want a kayak or two and we bring them to you, tell you all you need to know and let you go…. get busy having fun. Done. Feel free to get in touch and ask some questions. Click here for Figure Eight Island Kayak and SUP Rentals
**New – We are now offering bike rentals, beach chairs, umbrellas and more to Wrightsville Beach as well as Figure 8 Island!
---
Pricing • 2hr | 4hr | 24hr | Week
Single Kayak
- $40 | $60 | $80 | $180
Tandem Kayak
- $50 | $70 | $90 | $225
Paddleboard
- $40 | $50 | $70 | $180
Fishing Kayak
- $50 | $70 | $90 | $225
Shark Tooth Island
3 hour (minimum): $65/single, $80/tandem 1/2 day (4 hours): $75/single, $90/tandem
Giant SUP And Fishing SUP
- call for pricing
Beach Supplies
- Please click
HERE
all rentals include : kayak or paddle board delivery and pick up, PFDs, paddles, instruction, suggestions, laminated map, safety whistles, camaraderie & fun half day is 4 hrs. / full is 24 hrs. / week is 7 days • tax not included • Adventure Tours may incur extra charges
Grab some WKC merch here!
New in '20 – Our GIANT SUP Megalodon Paddleboard!  An absolute blast for families, team building, parties, or just stone cold chilling. Yoga on board, picnic on the water, multiple adults easily paddling together, huge waterbed , floating dock…you decide. And, of course,  kids will never, ever tire of it – Guaranteed. More here.
Give a gift of experience! WKC Gift Certificates are available anytime. Just give us a call and we'll set you up with some thoughtful, unique gifting.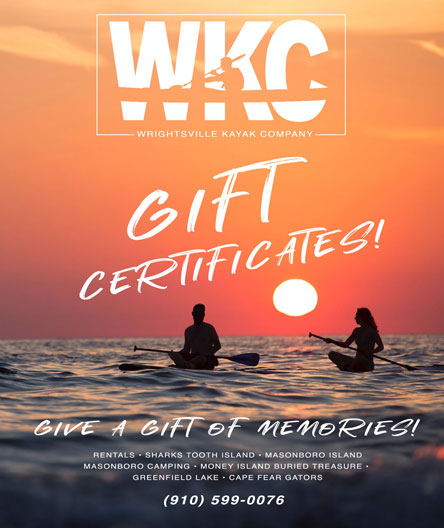 You know, the birding here is amazing! Request one of our waterproof Birds of the Southeast Coast maps and see how many you can identify on your journey – Super fun!