Figure Eight Island
We also offer free delivery of Figure Eight Island kayak rentals as well as paddle boards | SUP to Figure 8 – We pick up too of course! WKC is lickity split compared to any other rental agency (no surcharge!), with the ability to deliver your kayak or SUP to Figure 8 Island within the hour, and not leaving you hanging on your deck waiting for days. Did we mention delivery is free?
We also are offering beach chairs, bike rentals, umbrellas and more delivered to Wrightsville Beach as well as Figure 8 Island!
We do require that anyone on Figure Eight rent for more than 24 hours but with that you get almost immediate service, with all the gear (paddles, PFDs with coast guard approved safety whistle, leashes for SUP, etc.) and paddleboard and kayak instruction you could require straight to your door…or dock. We'll take as much time as you need to make sure you're familiar with the basics before you're out on the water, and if you want to just get some information first to measure your interest level or learn more about the area, just give us a call. We're happy to gab a bit and truly take pride in our little paradise we call home. Our goal is to make your time on the island as much fun and as relaxing as it can be, with a little excitement delivered to you by us. There's a reason we have the most positive reviews out there.
Safety first, and then you, whatever you need, we aim to get it to you in a timely, friendly manner so you can get your vacation in full swing without the hassle. Call us when you're ready, we'll be ready as well.
Feel free to get in touch and ask some questions.
Pricing • 2hr | 4hr | 24hr | Week
Single Kayak
- $40 | $60 | $80 | $180
Tandem Kayak
- $50 | $70 | $90 | $225
Paddleboard
- $40 | $50 | $70 | $180
Fishing Kayak
- $50 | $70 | $90 | $225
Shark Tooth Island
3 hour (minimum): $65/single, $80/tandem 1/2 day (4 hours): $75/single, $90/tandem
Giant SUP And Fishing SUP
- call for pricing
Beach Supplies
- Please click
HERE
all rentals include : kayak or paddle board delivery and pick up, PFDs, paddles, instruction, suggestions, laminated map, safety whistles, camaraderie & fun half day is 4 hrs. / full is 24 hrs. / week is 7 days • tax not included • Adventure Tours may incur extra charges
Grab some WKC merch here!
New in '20 – Our GIANT SUP Megalodon Paddleboard!  An absolute blast for families, team building, parties, or just stone cold chilling. Yoga on board, picnic on the water, multiple adults easily paddling together, huge waterbed , floating dock…you decide. And, of course,  kids will never, ever tire of it – Guaranteed. More here.
Give a gift of experience! WKC Gift Certificates are available anytime. Just give us a call and we'll set you up with some thoughtful, unique gifting.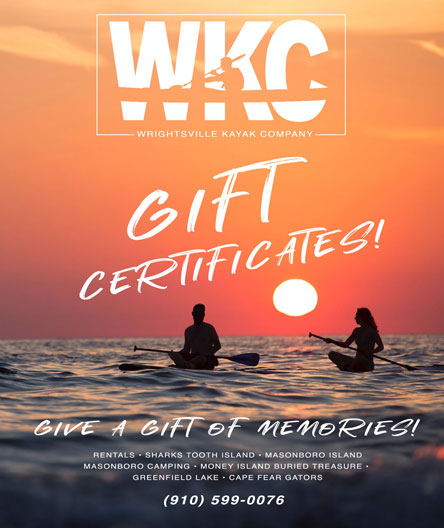 You know, the birding here is amazing! Request one of our waterproof Birds of the Southeast Coast maps and see how many you can identify on your journey – Super fun!