Greenfield Lake
If you're looking for a bit of nearby freshwater that is quite still and relaxing, look no further than downtown's Greenfield Lake. Acres of picturesque fun and open Spanish moss swamp replete with turtles and small gators for you to glide through.
You'll find shade when you want it, and plenty of space to get lost without actually getting lost! A great approach to an easy breezy kayak cruise if that's what you're looking for.
Pricing • 2hr | 4hr | 24hr | Week
Single Kayak
- $40 | $60 | $80 | $180
Tandem Kayak
- $50 | $70 | $90 | $225
Paddleboard
- $40 | $50 | $70 | $180
Fishing Kayak
- $50 | $70 | $90 | $225
Shark Tooth Island
3 hour (minimum): $65/single, $80/tandem 1/2 day (4 hours): $75/single, $90/tandem
Giant SUP And Fishing SUP
- call for pricing
Beach Supplies
- Please click
HERE
all rentals include : kayak or paddle board delivery and pick up, PFDs, paddles, instruction, suggestions, laminated map, safety whistles, camaraderie & fun half day is 4 hrs. / full is 24 hrs. / week is 7 days • tax not included • Adventure Tours may incur extra charges
Grab some WKC merch here!
New in '20 – Our GIANT SUP Megalodon Paddleboard!  An absolute blast for families, team building, parties, or just stone cold chilling. Yoga on board, picnic on the water, multiple adults easily paddling together, huge waterbed , floating dock…you decide. And, of course,  kids will never, ever tire of it – Guaranteed. More here.
Give a gift of experience! WKC Gift Certificates are available anytime. Just give us a call and we'll set you up with some thoughtful, unique gifting.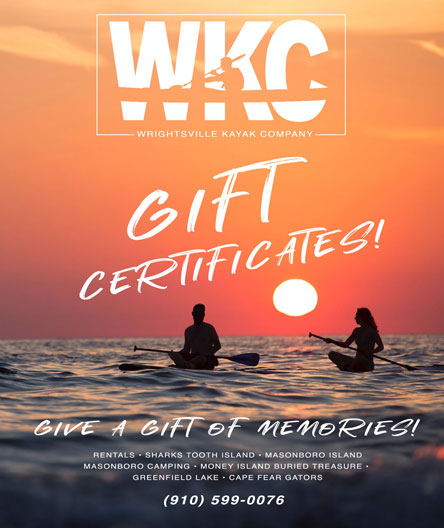 You know, the birding here is amazing! Request one of our waterproof Birds of the Southeast Coast maps and see how many you can identify on your journey – Super fun!