Kayaking Tours in Wilmington, NC and Wrightsville Beach
Looking for some spice to add to your Wilmington, NC adventure? How about a kayaking tour! Maybe add some zip after a relaxing time on the Wrightsville Beach sand? Look no further, Wrightsville Kayak Co. has you covered.
Get in touch with us to tailor make your day of awesome. We'll customize your time in a very unique way so that it works for you in every way possible, making your excursion with us convenient, pleasurable, and something to talk about for days, months, and years to come. We specialize in crafting indelible memories, folks!
Take our Shark Tooth island Kayaking Tour. No one has EVER come back empty handed. Tides makes sure to uncover a new layer of finding foundation each and every day. So find your inner archaeologist and paleontologist and add this amazing day trip to what's also a gorgeous paddle, replete with Cape Fear River history and sights.
Not your dig? How about a jaunt over to unspoiled, pristine Masonboro Island? No crowds, no amenities, no businesses, and no interruptions. It's pure, people. Well, actually, no people that is. Where in the world can you find this sort of thing these days? There are not even park rangers to guide you. You are on your own, Skippy, and it feels incredible. Bird sanctuaries abound (but please keep a safe distance from them as well as turtles and other wildlife) and the sand and dunes run for miles, 8.4 in fact. So walk and talk among the wide white sands and shell hunt to your hearts content. Picnic. Even go overnight camping on Masonboro Island! We'll set you up with everything you need after getting you there. Let WKC help you create your own Masonboro Island ideal, whatever you want that to be.
Too laid back? How about getting old school swamp rat-like with a paddle down the winds of the Cape Fear River tributaries?  Our Cape Fear River Tour will have you on the lookout for gators and turtles while meandering under a canopy of spanish moss, century old Tupelo, Cypress, and Gum trees, as well as rusted out covered bridges from days gone by. We'll outfit you with some binoculars too, as you might need them for the Osprey nests that tower above (and a host of other birding delights for that matter). It feels like another time, you won't even know that you're a hop and a skip from the hopping adventure of downtown Wilmington, NC. Let's do some time traveling! 
Even closer to downtown Wilmington, NC is our Greenfield Lake package. Wide paths surround our secret lake of kayak calms. Gators, yes. Turtles galore, check. Spanish moss, for days. Cold chilling, super cool. Easy breezy. 
And these are just a few options that Wrightsville Kayak Company has to offer. Just be in touch and our tour liason Tracy will help put together just what you're after, even if you don't quite know what that is yet. It's what we do.
Pricing • 2hr | 4hr | 24hr | Week
Single Kayak
- $40 | $60 | $80 | $180
Tandem Kayak
- $50 | $70 | $90 | $225
Paddleboard
- $40 | $50 | $70 | $180
Fishing Kayak
- $50 | $70 | $90 | $225
Shark Tooth Island
3 hour (minimum): $65/single, $80/tandem 1/2 day (4 hours): $75/single, $90/tandem
Giant SUP And Fishing SUP
- call for pricing
Beach Supplies
- Please click
HERE
all rentals include : kayak or paddle board delivery and pick up, PFDs, paddles, instruction, suggestions, laminated map, safety whistles, camaraderie & fun half day is 4 hrs. / full is 24 hrs. / week is 7 days • tax not included • Adventure Tours may incur extra charges
Grab some WKC merch here!
New in '20 – Our GIANT SUP Megalodon Paddleboard!  An absolute blast for families, team building, parties, or just stone cold chilling. Yoga on board, picnic on the water, multiple adults easily paddling together, huge waterbed , floating dock…you decide. And, of course,  kids will never, ever tire of it – Guaranteed. More here.
Give a gift of experience! WKC Gift Certificates are available anytime. Just give us a call and we'll set you up with some thoughtful, unique gifting.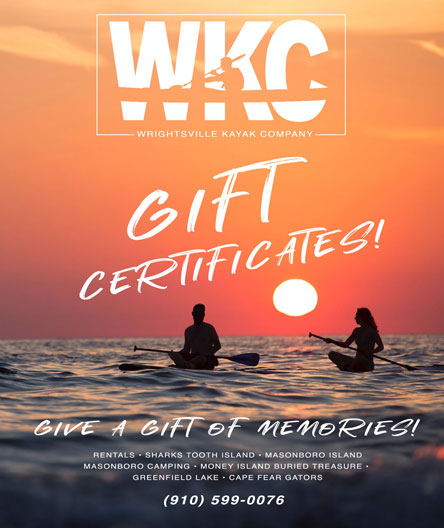 You know, the birding here is amazing! Request one of our waterproof Birds of the Southeast Coast maps and see how many you can identify on your journey – Super fun!