• NSP 11'0″ Stand Up Paddleboard – You know you want to try it. You've seen them around Wrightsville Beach and yea, they are as cool as you have imagined. Let us get you upright safely (our SUPs come with instruction if requested!). The NSP SUP is tough as nails and built with the beginner/intermediate in mind. At 11'0″, it provides stability yet still enough maneuverability to enjoy not only flat water but small waves as well.
• Ocean Kayak Malibu Two XL Tandem – A rental favorite. Great for TWO OR THREE people to have fun in the surf, while enjoying the sound, or beyond the break. Of course, it's not as maneuverable as the Mysto and doesn't give you the ability to stand up like the NSP SUP, but otherwise, incredibly diverse in what you can do with it. Absolutely perfect for the the family expeditions.
• ISLE GIANT SUP Megalodon Paddleboard – This monster is a multi-functional blast for families, parties, or just stone cold chilling. Yoga on board, picnic on the water, 5 adults easily paddle together, take a nap on it like a huge waterbed , it's a floating dock…you decide. Plus,  kids will never, ever tire of it – Guaranteed. Yeah.
• Ocean Kayak Malibu – Brand spanking new folks! This puppy has the most comfort we've seen in our sit on tops, hands down thanks to the new Ocean Kayak AirGo seat configuration. Speaking of hands, cup holders! 3 of them. Plus, comfy foot wells, calf rests, plenty 'O storage space for your take alongs too. We love it. So will you.
• BIC Performer Paddleboard – enjoy the new car smell of this smaller 10′ 6″ SUP. It's quite durable and maneuverable so it's a great choice when looking to cruise easily down the sound side around sunset as well as surf waves ocean front.
• NSP 11'6″ SUP – Another great choice for stand up paddleboarding. Built with a bit more heft, the NSP SUP is great for a little extra weight, a child passenger, or furry one.
• BOTE Aero – New! This SUP stealthy fishing puppy is a must for those wanting to get a nice paddle in whilst finding hot spot nooks to set and anchor and wet a line. Sit or stand. Cruise or sit still. You will marvel at the comfort and ease of which will put you there.
• Ocean Kayak Mysto – The most versatile kayak we rent. It performs great on waves as well as the calm sound side. The perfect kayak to be use in different ways for the whole family.
• 3 Palms 11′ SUP – The most versatile SUP we have we think. It performs great on waves as well as the calm sound side. Light, easy to handle…with a great handle!
• Ocean Kayak Frenzy – A classic.
The Frenzy is absolute joy in the surf, allowing you to ride down the lane of a wave or go paddling beyond them. The Frenxy is also a super kayak for the sound side as well. It's worth mentioning however that the Mysto might be better for serious surf kayaking as we can outfit you with kneestraps with the Mysto.
• Ocean Kayak Angler – Want to get out around Wrightsville Beach and fish for awhile? Rent the angler kayak do it with functionality, style, maneuverability, and comfort in mind. This rental includes tank well w/ bungee, a large bow hatch, carrying handles, cup holder, paddle keepers, Two flush mounted rod holders, and anchor.
Pricing • 2hr | 4hr | 24hr | Week
Single Kayak
- $40 | $60 | $80 | $180
Tandem Kayak
- $50 | $70 | $90 | $225
Paddleboard
- $40 | $50 | $70 | $180
Fishing Kayak
- $50 | $70 | $90 | $225
Shark Tooth Island
3 hour (minimum): $65/single, $80/tandem 1/2 day (4 hours): $75/single, $90/tandem
Giant SUP And Fishing SUP
- call for pricing
Beach Supplies
- Please click
HERE
all rentals include : kayak or paddle board delivery and pick up, PFDs, paddles, instruction, suggestions, laminated map, safety whistles, camaraderie & fun half day is 4 hrs. / full is 24 hrs. / week is 7 days • tax not included • Adventure Tours may incur extra charges
Grab some WKC merch here!
New in '20 – Our GIANT SUP Megalodon Paddleboard!  An absolute blast for families, team building, parties, or just stone cold chilling. Yoga on board, picnic on the water, multiple adults easily paddling together, huge waterbed , floating dock…you decide. And, of course,  kids will never, ever tire of it – Guaranteed. More here.
Give a gift of experience! WKC Gift Certificates are available anytime. Just give us a call and we'll set you up with some thoughtful, unique gifting.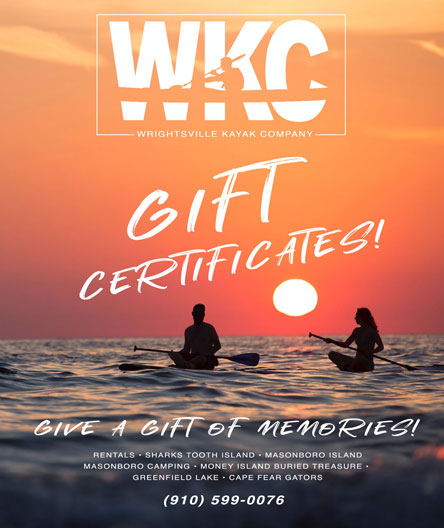 You know, the birding here is amazing! Request one of our waterproof Birds of the Southeast Coast maps and see how many you can identify on your journey – Super fun!